Insight Vision Training Center

Great vision requires more than 20/20 eyesight!
Our office-based binocular vision training program specializes in treating developmental vision and rehabilitative visual deficiencies.
Optometric binocular vision training is an individualized treatment program designed to improve visual skills that cannot be effectively treated with glasses, contact lenses, or surgery alone. At Insight Vision Training Center, patients work one-on-one with Dr. Lyerly and our therapists to achieve the vision necessary to navigate everyday challenges. Many of our patients' goals include success in the classroom, increased productivity in the workplace, improved efficiency at  sports and overall better quality of life.
Treatment Areas
The visual system can be affected by a multitude of conditions. Many of these conditions cannot be treated effectively with glasses alone. Our treatment programs are designed to help develop or recover fundamental visual skills, improve visual efficiency, and enhance how visual information is processed. Below are just a few of the common visual conditions that benefit from binocular vision training.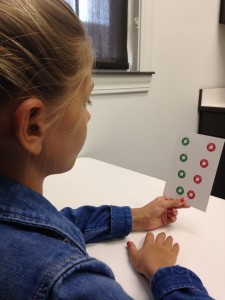 Concussion/Traumatic Brain Injury
Strabismus (Eye Turn)
Amblyopia (Lazy Eye)
Learning Related Visual Difficulties (Including Dyslexia, ADD/ADHD)
Developmental Delays
Convergence Insufficiency
Visual Motor Problems
Poor Eye Teaming/Eye Tracking
Let's Get Started!
Visit insightvtc.com for more information!